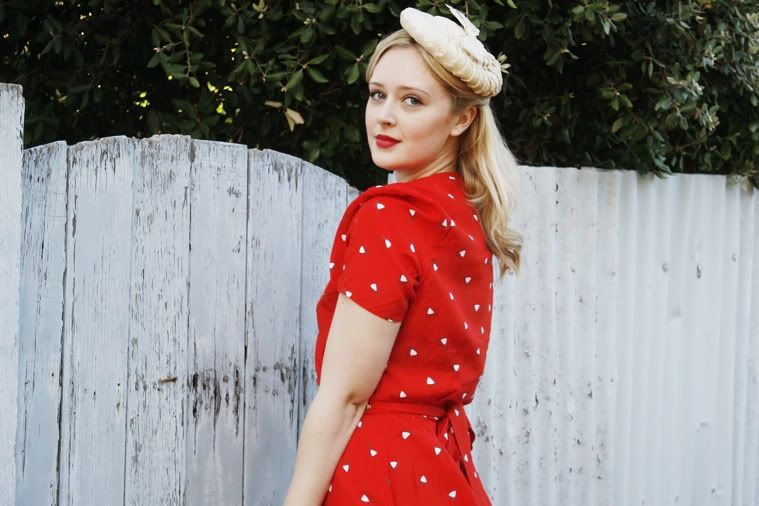 The title of this post is due to the fact i look like a pile of strawberries with a dollop of cream on top (gave me a bit of a giggle this morning).
Ive started to realise that im quite drawn to red things...not just dresses but after spending a bit of time decorating our house we noticed subconsciously all the pops of colour are red...Z mentioned it and it was like a little lightbulb moment! Bizarre! i didn't even think i loved red that much!
So this is one of the many red dresses i have, i adore it! even though its not my usual 50's era vintage piece im drawn to it does have a 40's vibe to it & i love the gathered shoulders and waist bow tie! it does have a split through the front which is a little dangerous in strong wind...trust me!
I had a few exciting deliveries via ebay this week and this too cute Aslette hat was one of them, it travelled all the way from USA to perch on my head and i couldn't be more in love! i have had some luck on ebay recently a few vintage hats and enamel 60's brooches are on their way! Huzzah!!
I hope your week has been amazing, ive started watching Breaking Bad..it may be consuming my life a little! (like i need another series to get hooked on) XX
(Wearing: Vintage red wrap dress, Vintage watch, Vintage bird brooch, Vintage Max Factor reconstructed purse, Hobbs heels, Vintage hat)