Along with my vintage dress collection i am slowly starting to accumulate a collection of vintage jewellery, ill admit i am not a huge earring wearer or rings for that matter but i always usually have a cute necklace or brooch on!
My grandmother is a jewellery collector she loves finding vintage pieces at swap meets and op shops (yes this is where i learned my op shopping skills) every time i visit we sit down and she shows me a few new pieces she found, she even carries them around in her purse just in case she needs to pull out her bag of jewellery and show someone! I usually leave her house with a belly full of tea and cheese toasties and a new brooch to add to my jewellery box.
I thought i would share with you some of my favourite pieces, i have so many choosing a few to show you was a little tough!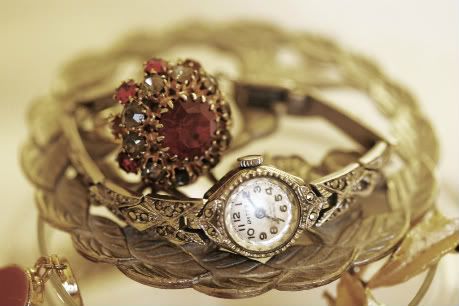 The ring was a gift from my grandmother it is only fake stones but i love the design, its one of the few rings i wear aside from my everyday Aquamarine ring gifted from my man. The wind up watch i purchased from an Antique shop, the owner didn't originally want to sell it to me as i think he thought i wouldn't take care of it or appreciate it, i left deflated and then returned the next day and demanded i
have it!
This adorable seahorse brooch i found while op shopping, he was sitting in a dirty cabinet looking so lonesome! it was love at first sight!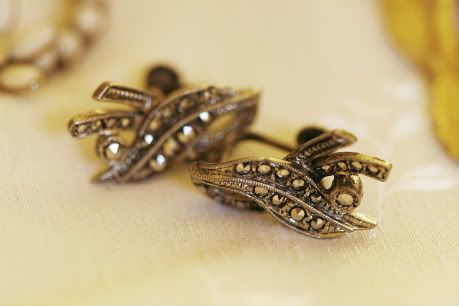 These earrings were a gift which i originally didn't think i would wear as they have
wind up backs, up after getting used to them i really like the fact you can loosen and tighten
them as you please! and plus how can you not love marcasite!
This gold leaf necklace was an ebay purchase a year or so ago, it has a very high neckline so its perfect for all my vintage dresses it has so much movement to it which is perfect because i hate feeling restricted.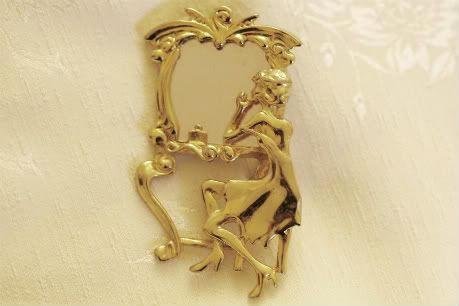 Another gift from my grandmother, i gasped when i saw it and practically begged her to have it! it is so cute on a colourful sweater!
And last but not least another necklace i found while op shopping, i have a few faux stone necklaces but none quite as fragile and adorable as this one, its a sometimes piece
1) because it usually catches my hair in the stones and rips it out & 2) because im too worried ill eventually loose a few stones or it will drop off my neck as the clasp is not holding up too well! all the same i love it.
I hope you liked taking a peek at a few of my fav pieces, if you have done a jewellery post in the past id love for you to post me a link in the comments so i can have a looksie!
(P.S -Apologies for the yellowish tinge to the photos that will teach me to photograph at sunset)
XX